As the school year begins, the Council for Economic Education (CEE) wants to recognize those K-12 teachers of all subjects who are gearing up to equip their students with the tools and knowledge of personal finance and economics. Introducing students to the vocabulary of money helps them make better decisions for themselves, their families, and their communities. Whether you teach econ, government, English, math, social studies, or physical education, CEE wants to know how you've made your classroom #EconReady.
From August 27 until September 27th, we'll be on social media sharing how teachers have prepped their classrooms to incorporate economics and personal finance. The creators of the five posts who get the most likes/shares will receive a $200 credit for our online store (limit one prize per entrant)!
How to participate:
Take a picture or video of your #EconReady classroom (Note: Please adhere to your school's photo/video media release policies with regards to including photos of students).
Post it on Twitter, Instagram, Facebook, or LinkedIn with the hashtag #EconReady, and tag @CouncilEconEd.
Comment on your own post with a link to one of the resources from EconEdLink.org (a free lesson plan, a video, interactive, etc.).
For step 3 you can choose your own preferred EconEdLink resource or find one you like from this list:
Guidance/Counseling: How Will I Pay for College? (grades 9-12)
Math: Using Slope to Compute Opportunity Cost (grades 9-12)
Physical Education: The Economics of Professional Sports: If You Build It, Will They Come? (grades 9-12)
Economics: Sandwich Supply and Dessert Demand (grades 6-8)
English learning arts (ELA): "The Giver": Jonas Makes a Choice (grades 6-8)
Global studies: The Civil War: A War of Resources (grades 6-8)
Science: Blowing in the Wind (grades 6-8)
Elementary: Competition Pizza (grades 3-5)
Elementary: Learning Economics with Minecraft: Choices, Costs and Benefits (grades 3-5)
Elementary: Bad Kitty Gets "Good" Goods and Services (grades K-2)
Elementary: Every Penny Counts (grades K-2)
Career and technical education: Understanding a Balance Sheet
Example post: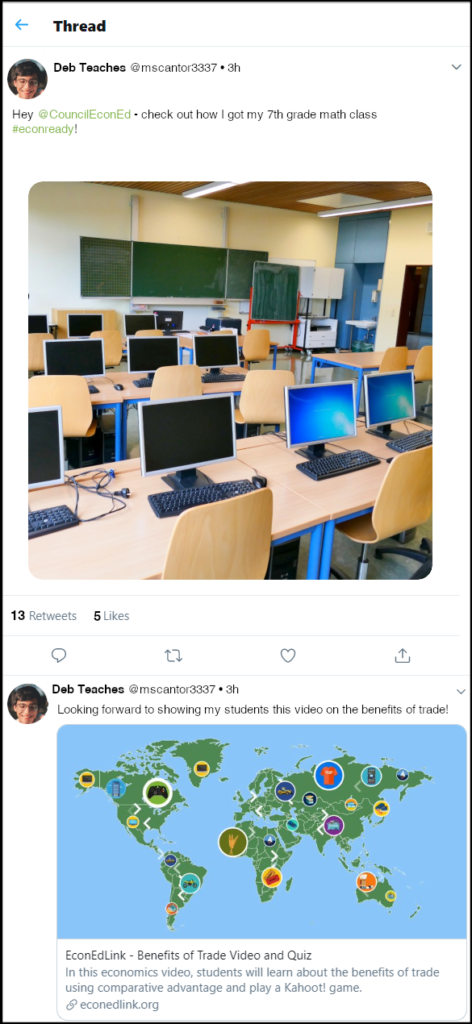 We look forward to seeing (and sharing) your #EconReady classrooms!
*CEE reserves the right in its sole discretion to exclude any entries for consideration.